The Pros and Cons of Organic Facebook Marketing
Marketing is a complex craft, and there are dozens (if not hundreds) of strategies available to marketers. As you construct your high-level lead generation program, you will want to evaluate various strategies based on their perceived opportunity as well as the potential drawbacks. Here is such an assessment for organic Facebook marketing.
The Pros of organic Facebook marketing:
It's free!
Your audience is more inclined to trust organic content. If someone has willingly followed your branded Facebook account, then they are much more likely to engage with your content as opposed to an unsolicited newsfeed ad.
Question posts. If you're looking to gather audience insights/feedback or do quick and dirty consumer research, Facebook is a great place to do so. The trick is to keep your questions short and to the point.
Video reigns supreme. If your business is creating lots of original video content, then there is an opportunity for you to improve traffic and engagement. Short-form videos are effective for diverting traffic to other pages (like your blog), long-form videos will garner the greatest reach and engagement, and live videos are most effective for collecting data or engaging followers immediately.
Facebook groups. Facebook marketers should create their own business group, plus join and actively engage with other Facebook groups. This is a great way to build meaningful relationships with users and prospects.
The Cons of organic Facebook marketing:
Reduced reach. Recent algorithm changes have dramatically limited the reach that business account holders had come to expect from organic posts. In fact, organic post reach is currently hovering around the 1 percent to 6 percent range.
External link limitations. Sharing content that originates outside of the platform, such as your blog, your YouTube page, or otherwise will be given the least reach and the least resulting engagement.
User preference. Where Facebook was once the ruler of social media, it now carries a largely negative user perception, due to the scandals, data breaches, and ad infestations that have wrought the platform over recent years.
The Pros and Cons of Organic Facebook Marketing
1. Perform a page audit
Facebook business pages are robust. It's important to have your account set up as a business page and have properly filled out all of the relevant sections. It might seem mundane, but some simple tweaks will go a long way towards improving your online brand perception.
Some of the most important sections for most B2B businesses include:
Completing your "about" tab so that users and prospects who discover you for the first time can quickly understand your business. Contact info is critical; about, company overview, story, products, and business categories are high priority. Information, such as the founding date and your mission statement, can help to round out the page.
Ensure you have a high-resolution logo/profile picture, and an eye-catching and creative wallpaper image that also serves to explain your offering.
If you haven't been closely monitoring the reviews page, then this is a great place to go to better understand what customers are saying about you. If your review score is below a 4 out of 5, then it is something you need to work at so that you don't risk deterring future traffic.
Photos provide a quick gauge as to whether or not your team has been successful in creating a branded experience across your recent posts. A quick scroll through all of the photos on your page will provide insight into things like color usage, vector usage vs image usage, and just the overall brand impression that your page is creating. Great pages should have a clearly defined brand experience that can be easily seen by scrolling through the page photos.
2. Set growth goals
Depending on your industry, a lot of business happens on Facebook. Unfortunately, determining and measuring ROI can prove challenging with organic social media tactics. That's why it's imperative that you set clear and measurable goals for all of your efforts.
Here are some steps to help you set great goals on Facebook:
Start with a broad objective.

Increase local engagement and build a stronger brand community.
Generate leads for a new product or service offering.
Generate leads for the core product or service offering.

Apply the SMART framework.

Specific. Clearly stated and simplified.
Measurable. One or more metrics can easily be applied.
Achievable. Possible within your current resource scope.
Realistic. Are you reaching for the stars or setting objectives that fall within your core competencies.
Timely. Define your timeframe, be it weeks, months, or a year.

Apply metrics to your SMART goal. Once you've beefed up your objective with the SMART principle, you need to identify specific Key Performance Indicators (KPIs) and metrics that will measure your success. Each objective will have unique KPIs that are worth reporting, and these should be rather easy to determine. Here are a couple of examples:

Increase brand awareness on Facebook by generating a 30 percent increase in website clicks over a one month span.

KPIs: post reach, total page impressions, profile page link clicks

Generate 10 leads for "x" new products over the next 30 days by posting on Facebook once per day.

KPIs: post link clicks, post engagement, post reach
Some broader (Facebook-specific) goals that could be applied to the SMART framework include:
Increase engagement through shares specifically (since Facebook posts tend to earn more shares than those on other platforms)
Build feedback loops by creating and maintaining a Facebook group
Uphold great customer service by interacting and engaging with customers and prospects
3. Construct a content calendar
Frequency is a major consideration in the Facebook algorithm. That's why businesses need to be active in order to optimize their organic reach. The best way to do so is by building a content calendar. Content calendars can also ensure that you stay on track with your objectives.
There are a few ways you can go about building a content calendar. Firstly, you can create your own via spreadsheets.
Secondly, you can look to leverage project management technology like Trello or Asana to build a content calendar. These platforms are very user friendly and often have necessary functionality in a free tier, but they are not capable of translating your calendar into actual social posts.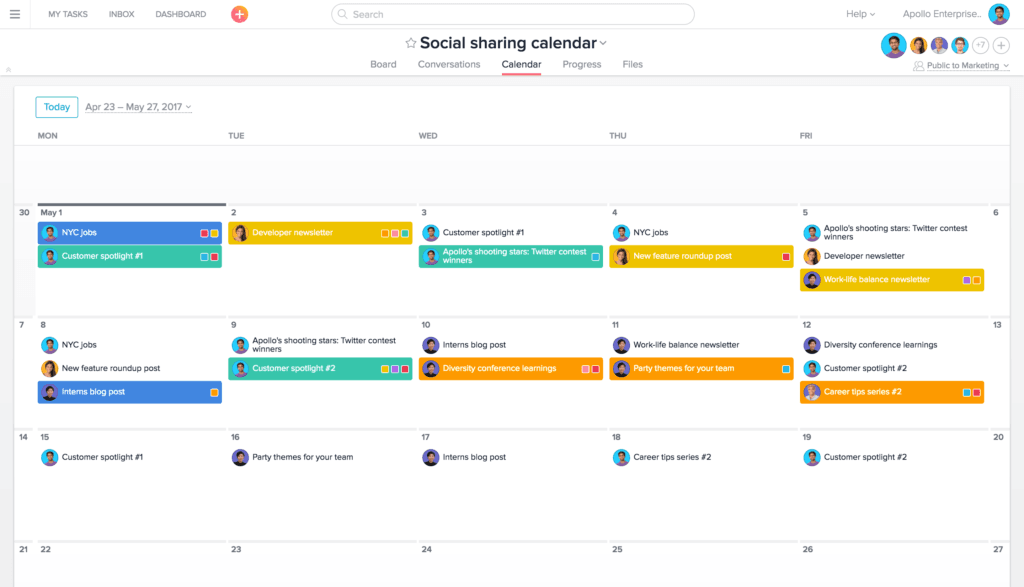 Thirdly, you can use scheduling software to build a content calendar, and schedule your social posts in advance. This option is by far the most efficient use of time and resources but generally comes with a price tag. Example solutions include HubSpot, Hootsuite, and Vendasta.
In order to avoid duplicate work, you're likely going to want to include all of your organic social platforms in this calendar. The following sections will refer back to this process and these suggestions.
4. Perform a post audit
One of the greatest benefits of organic social marketing with Facebook is the breadth of information that's available to business users. You should take advantage of this data by performing an audit on your top-performing posts to benchmark your successes, as well as identify winning content, tactics, and techniques.
Here's how to perform a quick post audit:
Navigate to insights on the left sidebar.
Click on the posts section.
Analyze your recent posts based on desired metrics (reach, clicks, engagements, etc).
Identify top performers.
Do some research on the average social performance metrics of others in your industry and compare them against yours.
Begin to look for trends and similarities that might separate your top performers from the rest of the pack.
Try to replicate these successes in future posts.
Compare performance and continue to benchmark against previous post performance.
5. Get posting
Now it's time to leverage that content calendar you've created, take the lessons you've learned from assessing your top posts, and put those into action with new social content.
Here are a few posting tips:
Mix up your post formats. Over the years, Facebook has expanded the posting options available to users. Today, B2B companies can leverage text posts, video posts, embedded link posts, live posts, story posts (image or video), as well as the full suite of ad offerings.
Try upping the ante with your image and video content. For example, this might mean experimenting with new tricks on photoshop to add a little pizzazz.
Experiment with posting at different times of the day.
Experiment with your posting tempo. As long as you are posting at least five times a week, experiment with higher post volumes (some have reported effectiveness with up to four posts per day).
Never use engagement bait or other spam tactics.
Try and evoke an emotional appeal (unless it would be very off-brand). Think of the last Nike ad you saw and try to emulate some of the techniques that were used.
Try running a contest.
Try posting user-generated content.
Bonus: Try the dollar-a-day strategy
This strategy ventures somewhat beyond the bounds of typical organic Facebook marketing, but can be a great way to utilize a little bit of budget to increase your reach and more readily identify your best posts. Coined by Dennis Yu, CEO and Founder of BlitzMetrics, this strategy employs a technique of boosting your top social media posts with a one-dollar per-day bid and amplifying that spend on posts with viral potential.
Here's how it works:
Create great posts that share original content and genuine knowledge (Dennis Yu suggests video content of yourself specifically).
Identify your top performers. Dennis suggests that for a post to be considered great, it should have an above-average reach and be generating engagements at 10 percent of that overall reach.
Select the right target audience for each post that you decide to boost. If you're a marketing agency and are posting about digital marketing strategy, then selecting an audience with a digital marketing interest would be wise.
Boost each of these top-performing posts with a one-dollar per-day bid for seven days.
Dump fuel on some fires and put out others. After seven days, top performers among your selection set should become very obvious (Dennis suggests that 90 percent of your posts are likely to fizzle out). Now, Dennis recommends that you ramp up your dollar per-day bid for an additional 30 days on that top 10 percent in the hopes of finding your unicorn post.
Stack additional budget on your unicorn posts as the ROI will be high. You can also experiment with switch-boosting strategies that involve the customization of audiences to extend the life of the ad (creating a custom audience if attending a conference one month, then switching it for the next month).
Note: This strategy was proven on Facebook, but can also be applied to other platforms (particularly Twitter and LinkedIn).